Award-winning British designer Bethan Gray designs The Glenlivet's Winchester Collection Vintage 1967, a limited-edition 50-year-old Single Malt Scotch whisky. This collaboration signals a rising demand in the spirits market for luxury craftsmanship and elevates the bottle to a design object for collection and display, rather than consumption alone.  
Each bottle was hand blown by master glassblower Brodie Nairn to precisely the right size and thickness and then hand-cut, creating an ombré colour effect that mimics the ageing process of the liquid inside. It is then engraved and hand-painted, making each one unique. It is such a meticulous process that eight bottles are hand-crafted for every one that is used.
The collection is created in honour of Glenlivet's master distiller Alan Winchester. 'I wanted to incorporate Alan's passion for the local countryside into the design,' says Gray. Each case lid is inlaid with mother of pearl taken from the fresh water mussels that populate the River Spey and the cases themselves are grey, to echo the barrels in which the whisky is stored.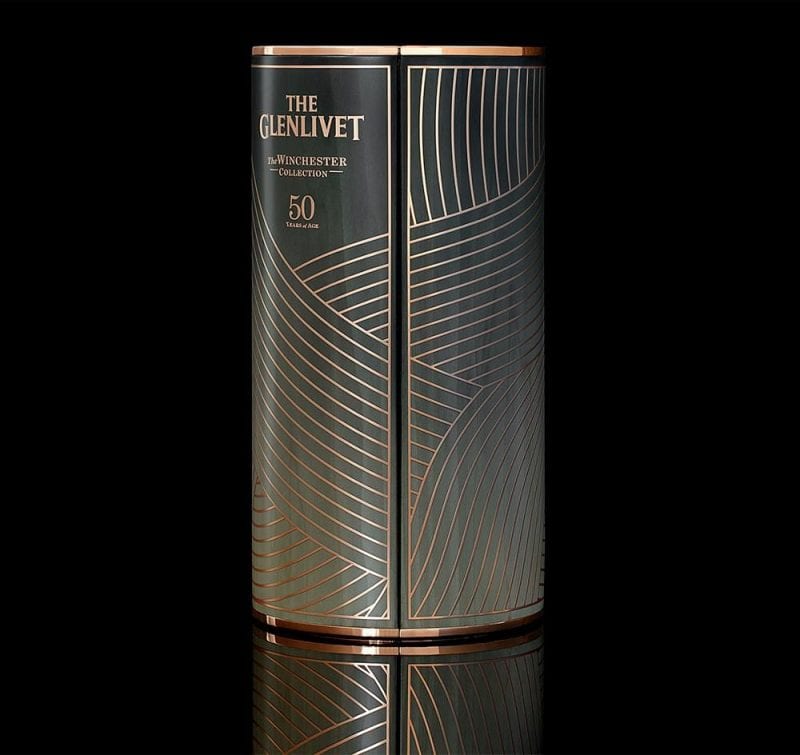 The hand-stained maple case is made using solid copper overlays that reflect The Glenlivet's charred barrels and copper stills.  Created by hand by artisans, the technique used to overlay the delicate copper was invented specifically for this case in its curved form. Its Dhow pattern is a motif that has become synonymous with Gray's design, appearing on her furniture and ceramics.

The Vintage 1967 is a coveted collector's item that represents the culmination of more than 40 years of dedication and expertise from Master Distiller Alan Winchester. Retailing at USD $25,000, only 150 bottles of the Winchester Collection Vintage 1967 will be available globally.  Discover Opulent Club on Apple News.