The 2021 BMW Vision iNext Concept is packed full of future technology, a premium utility vehicle that "pilots all of the technology that will make the company future-proof for the next decade." With its new Vision iNext concept, the German automaker is planning for an autonomous future where everything you do while inside a car matters—except driving.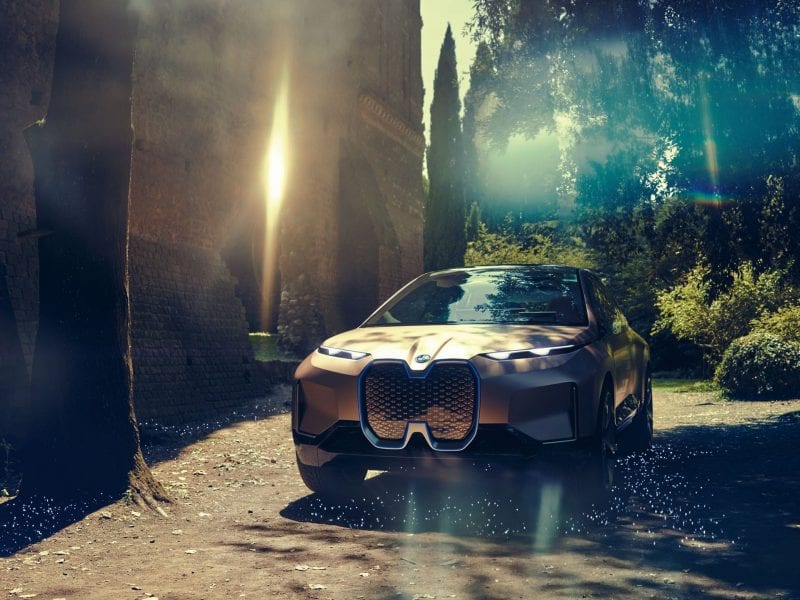 The show car cuts a futuristic silhouette, rendered in copper with suitably conceptual, oversized 24-inch wheels. The interior of the Vision iNEXT looks almost retro, with jewel-toned carpeting lining a cloth-covered lounge-like back seat. The wooden console and flooring in the front look faintly like something you'd buy at DWR. A lounge-style cabin where passengers roam about without the burden of buckling up.

Seat fabric you caress with your fingertips to play a song? Now we're onto something new. A new double-screen dashboard with one in front of the driver stretching behind a second, larger screen open to the rest of the cabin. The driver or passenger can operate the twin displays sticking out of the dash by rubbing the herringbone wood on the center console as if it were a touchpad. Or anyone can say, "Hey, BMW," and talk to the car's voice-activated concierge. That brand-new feature, known as Intelligent Personal Assistant, joins BMW's existing Gesture Control, which responds to midair finger jabs to control stereo and phone-call tasks. Controls are extremely sparse thanks to BMW's future technology strategy it calls "Shy Tech." It's only there when you need it." Said Harald Krüger, Chairman of the Board of Management at the BMW Group.
"The possibilities opened up by autonomous driving and ever-expanding connectivity enable a whole new range of experiences and ways of shaping a journey," adds R&D boss Klaus Fröhlich. "With this in mind, we have designed the all-electric BMW Vision iNEXT as a mobile environment that enhances quality of life, a new 'Favourite Space' in which we can be ourselves and relax. Indeed, all of BMW's endeavours will continue to revolve around people – and their needs and desires when it comes to mobility – in the future."
The concept's designed to work either in fully autonomous "Ease" mode or in driver-operated "Boost" mode, with the steering wheel and controls retracting out of the way when not in use.
BMW R&D chief Klaus Fröhlich said it would be capable of 373 miles of range, could reach 60 mph in less than four seconds, and would be the best in its class. After all, Fröhlich pointed out, it is a BMW.
Despite being only a concept, BMW is making it sounds like it's a very important vehicle for the brand. BMW said that "the series-produced version of the BMW iNEXT will assume the role of a new technology flagship; production at Plant Dingolfing is slated to begin in 2021."