Diana Yacht Design has unveiled brand new concept what it claims is the first explorer yacht design to include a private observatory. The new explorer design follows on the success of Legend, a fully classified Class 1 ice-breaking ship which was previously converted into the world's only ice-breaking charter yacht.
The 60 metre explorer yacht concept Beyond is a unique explorer yacht created with ocean and sky exploration in mind. The first design by in-house designer Casper Marelis, who was previously a finalist in the Young Designer of the Year Awards.
The steel hull and forward aluminium superstructure paired with high bow give her exterior lines a sleek and strong appeal, indicating her readiness to master any cruising conditions. "I wanted to create an explorer yacht which really has the rugged look associated with this type of vessel," said Casper Marelis.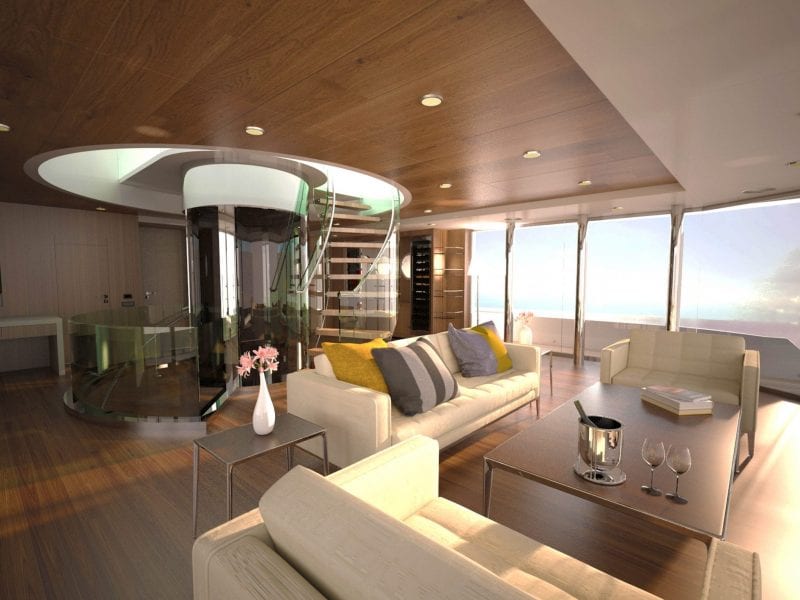 The design features ample storage space of tenders, submersibles and water toys while four overhead cranes can be used to move the extra vessels which can be easily transformed to suit the needs of the voyage, highlighting the flexibility of her design.
Next to the observatory which features a gyro-stabilised telescope, a helideck on the bridge deck aft, with plenty of space for a submersible and toys. The tender garage can also be opened up and increase the outside deck, offering guests more space for an outside lounge for example. The sliding doors and four overhead cranes can be used to move the extra vessels or vehicles and are not in the way of the aft main deck for easy access to the swim platform.
The interior layout features include a cinema on the cabin deck, dive store and a gym and wellness centre. The owner's lounge has a complete glass aft all, which offers an uninterrupted view of their surroundings, while the owner's suite features 180 degrees views and a private jacuzzi. Accommodation is for 14 guests in seven staterooms, including four doubles, two twins and the owner's cabin.
Power will come from a pair of Caterpillar C32 for a top speed of 15 knots.