Parmigiani has relaunched the Toric collection, bringing it back not only in hyper-complex editions but also in more simple versions.  The unique Toric Capitole Rose Gold Brown, with its sector display and minute repeater, is one of these exceptional timepieces.  The watch takes its name from the Capitolium in Rome the religious and political heart of Ancient Rome the geometrically spiraling floor tiles of which are reproduced in the pattern of the dial.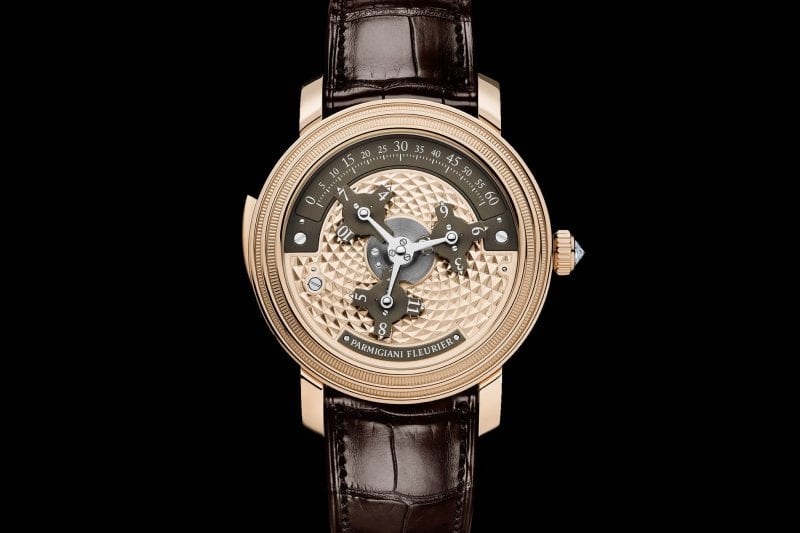 This 2019 Parmigiani Fleurier Toric Capitole is based on an existing model.  If technically nothing has changed, the brand now offers a new colour combination as well as a new dial.  This watch is now available in a combination of an 18k rose gold case measuring 45mm in diameter and still relying on the signature Toric case, with gadroons and knurling – with a rose gold guilloché dial and multiple brown accents – resulting in a warm watch.
"The decoration is so captivating because it is based on the Golden Ratio. Within it, you see Fibonacci's spirals, reproducing a harmony that is everywhere in nature." This is how Michel Parmigiani describes the rose gold dial of the new Toric Capitole.
The PF321 calibre features a module dedicated to the sector time display.  This module, directly meshed with the hour wheel, incorporates a rotary system comprising three planetary gears with four arms, each end of which bears a numeral to indicate the hour (1 to 12).  The time is displayed in a semi-circle on the upper half of the bezel, on a dial comprising 60 minute indexes.  The set of discs is driven via a highly complex cam system.
The timepiece's open case-back reveals the PF321 hand-wound mechanical movement and its minute repeater.  To enhance the sound, PF chose to equip the Toric Capitole with cathedral gongs, which are coiled twice around the movement meaning much longer than normal gongs, amplifying the acoustic quality compared with a single set.  The rose gold case has been forged to ensure the minute repeater chime acoustics are perfect, with the sound wave oscillating at the optimum frequencies inside the case.
This new version of the Parmigiani Fleurier Toric Capitole is a unique piece – which will be displayed at the SIHH 2019 – and its price will only be given upon request.  More details at www.parmigiani.com.   Discover Opulent Club on Apple News.