McLaren has already taken deposits for all 106 planned copies of its Speedtail Hypercar, and now it's time for those customers to begin personalizing their McLaren. Each McLaren Speedtail will be hand-built and tailored to the customer's exact requirements and to help make this process less demanding, McLaren's Color and Material design team has curated an extensive and innovative range of design concepts. The idea was to create collections that have different vibes that would fit different customer personalities. It seems they were aiming for these three themes in the collections: sophisticateed, striking and sporty.
The first is called "Urbane," and is intended to be subdued and refined. As an example, McLaren created a "Stratosphere" theme that sees the Speedtail rendered in a glossy, exposed carbon-fiber finish with light blue anodized and brushed aluminum brightwork. Platinum badging with carbon inlays is applied. Inside, the cool-hued cabin blends the metallic light blue driver seat with light grey passenger seats. Bespoke navy painted edge with navy contrast stitch and bespoke brushed light blue anodised aluminium brightwork complete the look.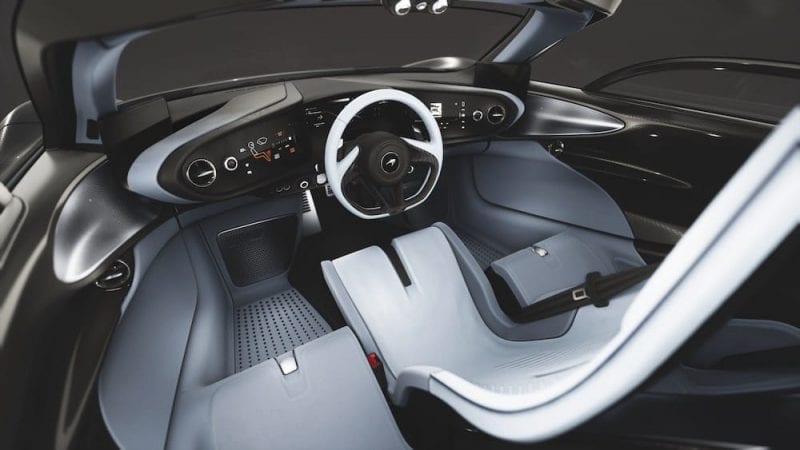 The "Visionary" collection is characterized as "purposeful" and ranging from "moody to opulent." It includes the stunning Astral theme, inspired by the UK's wealth of nautical heritage with an interior dominated by timeless navy blue, including nubuck bespoke navy passenger seats and full aniline leather bespoke navy driver's seat, bespoke Nebular quilt and digital print on nubuck bespoke navy leather upper trim. The exterior is finished in bespoke orange with bespoke silver pinstripe, gloss 1K visual carbon fibre and white gold 18 carat with TPT inlay badging.
Then there's the Dynamic collection that revolves around one thing: sporty. McLaren created this one for those looking to be bold and make statements. It's epitomized by the Bloodline theme, distinguished by an unhindered burst of bespoke red on the exterior, with gloss black diamond cut wheels featuring a bespoke light copper edge and silver brake calipers. The cabin has red full-aniline leather on the central seat and semi-aniline white leather on the outboard ones, while quartz white carbon accents were applied to the steering wheel, paddle shifters, and window and door surrounds.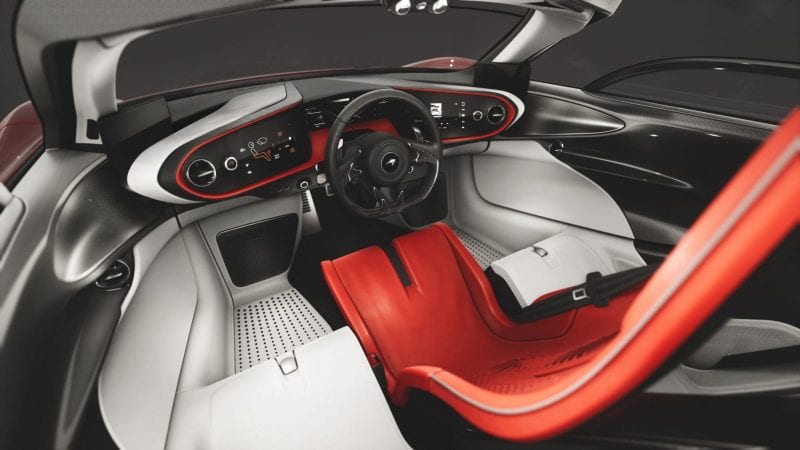 The three-seater features a gas-electric hybrid powertrain good for a staggering 1,035 horsepower, and is promised to be the fastest and quickest McLaren ever built, and the entire 106-car production run sold out before it was unveiled in October.   Discover Opulent Club on Apple News.