For the Chinese New Year, Blancpain is celebrating the Year of the Pig set to begin on February 5 with a limited edition of its iconic Traditional Chinese Calendar. The Traditional Chinese Calendar watch by Blancpain is based on fundamental principles established for millennia and profoundly rooted in Chinese tradition.
Since 2012, Blancpain has regularly presented a Traditional Chinese Calendar limited edition watch on which the zodiac sign of the year is discreetly displayed. On its fascinating dial, the hours, minutes and the Gregorian calendar rub shoulders with the main indications of the Chinese calendar: traditional double-hour indication, day, month with indication of leap months, signs of the zodiac, as well as the five elements and the 10 celestial stems. The combination of the latter with the 12 animals of the zodiac that represent the terrestrial branches follows the sixty-year cycle that is central to Chinese culture.
The animal appears in a small window at 12 o'clock and is also engraved on the oscillating weight of the movement, visible through the sapphire crystal of the caseback. After the "Dragon", "Rooster", or "Dog" models, it is therefore to the Chinese zodiac sign of the year, the pig, that Blancpain dedicates its 2019 Villeret Calendar Chinese Traditional timepiece. The moon phases, a key element in Blancpain complete calendars, are also presented and play a particularly important role in this model, given the link between the lunar cycle and traditional Chinese months.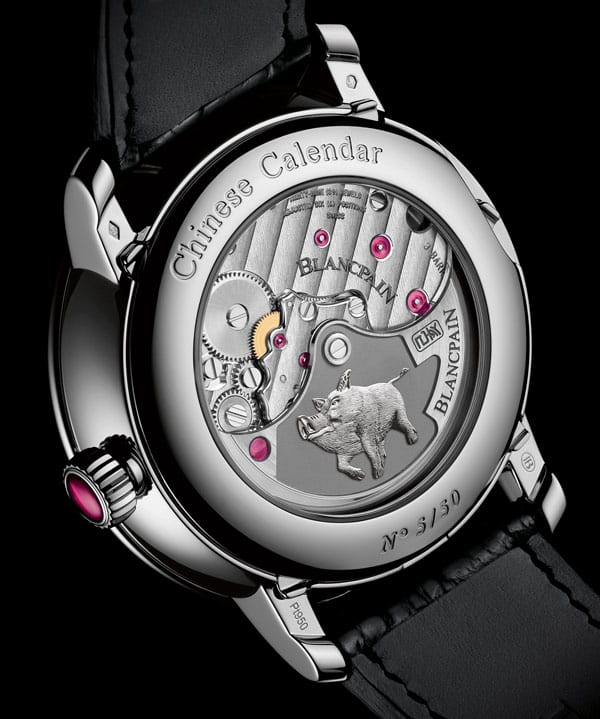 While the Gregorian calendar is based on the solar day, the lunisolar Chinese calendar is based on the lunar cycle, composed of 29.53059 days. A year of 12 lunar months is about 11 days shorter than a solar year. In order to maintain consistency with the seasonal cycle, a leap month is added to the Chinese calendar every two to three years. This distinctive feature is the reason behind the variability of the Chinese New Year date.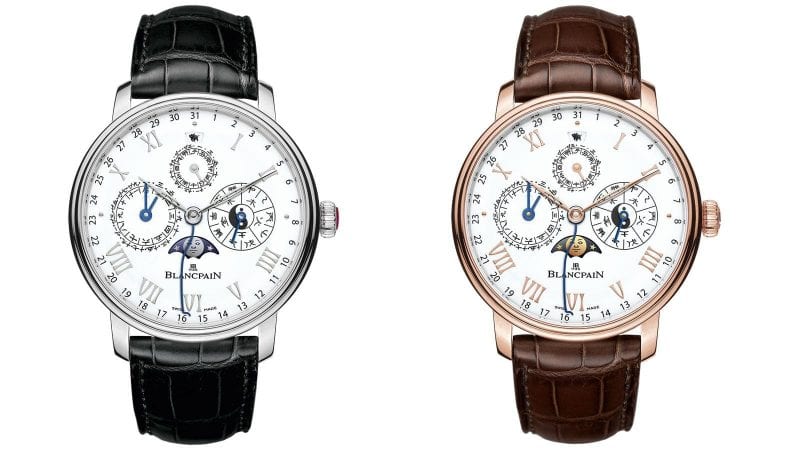 The timepiece is driven by the self-winding 3638 movement. Its seven-day power reserve is made possible by the use of three series-coupled barrels, equipped with high-performance springs. The 45 mm platinum case features a crown set with a cabochon ruby. It incorporates five under lug correctors a patented Blancpain invention enabling easy fingertip adjustment of functions without the need for a correction tool. This new Traditional Chinese Calendar watch is also available in a non-limited red gold version with a guilloché oscillating weight.   Discover Opulent Club on Apple News.