Macallan has introduced a new core range single malt containing a proportion of whisky distilled from barley grown on its Easter Elchies estate. While its estate-grown barley has gone into other expressions from the distillery, this is the first bottle made up exclusively of that grain. This barley is distilled just once a year over the course of a week and usually is reserved for the Macallan's top whiskies.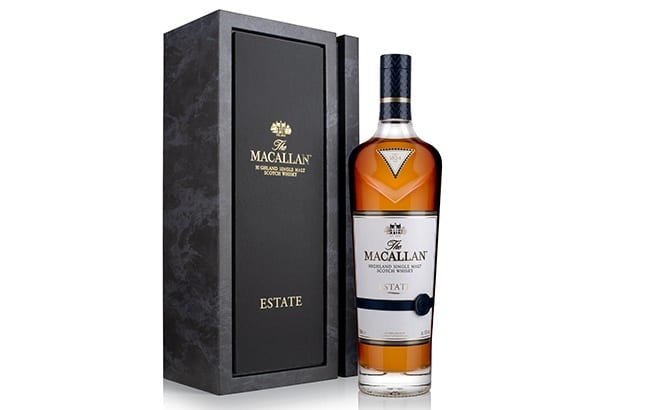 Bottled at 43% abv, The Macallan Estate whisky is described as "rich and complex" with a "long finish". It was created to celebrate the brand's provenance and heritage. At just 86 proof, this is an easy, delicious dram to sip, more warmth than burn. It matured exclusively in sherry-seasoned oak butts and hogsheads, but offers no age statement.
Sarah Burgess, whisky maker for The Macallan, said: "Our Easter Elchies estate lies within the legendary Speyside region of Scotland, a place of timeless natural beauty, and a place that we are proud to call home. With its wonderful sweet citrus hints and warming wood spice, The Macallan Estate is a rich, satisfying and complex spirit that pays homage to the fertile Speyside lands where The Macallan is located and celebrates the unrivalled craftsmanship for which we have been known since 1824."
The whisky is presented in a gift box with aerial photography of the estate's barley fields that surround Macallan's new £140 million distillery. Priced at £195 (US$245.62), The Macallan Estate will be available to buy from select whisky specialists from July. Discover Opulent Club on Apple News.