HYT, the Swiss luxury watchmaker, take things to the next level in a way that no other watch manufacture can by introduced a new watch called SOONOW in limited edition of just 25 pieces. HYT is the only watchmaking company to display time with fluids. It was launched in 2012 when it introduced its first hybrid timepiece, the H1, during BaselWorld.
Launched in two cool styles one stainless steel with green fluid, and another stainless steel with black DLC coating and blue fluid.  The dial is titanium silver, and the pins that make up the skull are made from white gold. The second one uses a blue fluid to indicate the hours and has a stainless steel case, yet utilizes yellow gold pins for the skull. Both are powered by the manual wind caliber has a power reserve of 65-hours and runs at 4Hz. which HYT developed together with Chronode. 
The skull has been a reoccurring design element for HYT and serves as a reminder that every second count. Here, however, one eye has been replaced with the words "soon" and "now." The mission for the text: strike home the notion that time is fleeting and precious. The parts of the dial along the skull and the tube through which the time-indicating fluid runs, feature precision drilled holes in them, adding even more to the three-dimensional effect of this watch.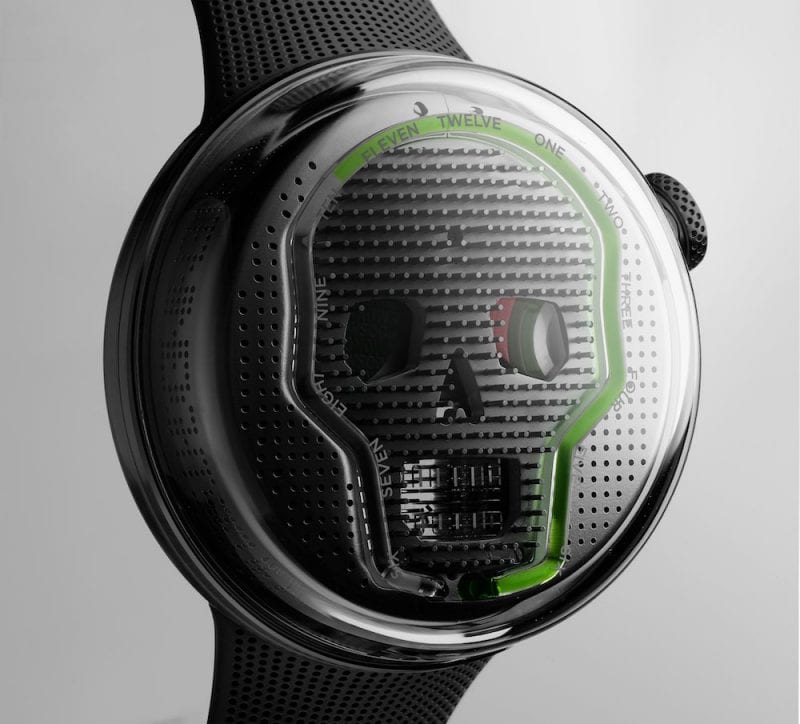 There are moments when we want Now to last forever. At other times, Soon can't come fast enough. The SOONOW timepiece by HYT has the answer. Its intriguing and captivating presentation of time's flow is a constant reminder That Every Second Counts Because These Moments Are What Add Together To Equal Lives- Ours." 
HYT's SOONOW watches will retail for $76,587.