Gucci has announced the reopening of its flagship store in Sydney's Westfield. Contemporary Australian art and Gucci codes are showcased in the newly redesigned flagship store.
The store now boasts an increased retail footprint spanning over 11,702 square feet across two floors. To celebrate the grand opening, Gucci teamed up with O.Z.O., an Australian creative collective that offers a platform for emerging artists to showcase their work. The results are unique installations by Edward Woodley, Max Berry and Aedan Lee, whose sculptures, video pieces and multidisciplinary works are featured throughout the space.
Edward Woodley sculptural piece combines the artist's signature style of contrasting underlays and collages with elements taken from the world of the House and the codes of its Epilogue collection – including Ken Scott's archival prints Istric and Lulude.
Woodley has also created a colourful large-scale artwork that takes over the flagship's entire façade and sets the tone for what's inside. Elsewhere, a bespoke client space, reserved for an exclusive shopping experience is decorated by mauve velvet upholstered walls and artisanal handpainted herringbone floors and is accessible by a private entrance.
The boutique is also home to a joyful city exclusive, the Sydney tote. Available in a limited edition of twenty numbered pieces, the woven bag is personalized by a leather patch that represents the city in embossed metallic gold lettering.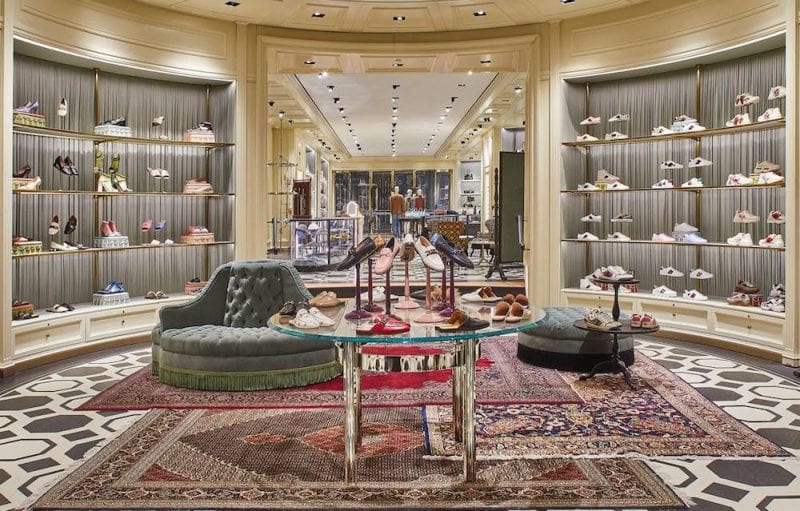 "Australia has always been a strategic market for Gucci. The country offers our brand a very exciting proposition supported by its melting pot of cultures. We are also very proud to be collaborating with local Australian creatives to showcase their art – inspired by Gucci codes – in our newly renovated Sydney Flagship," said Emmanuel Delrieu (Gucci, Regional President, South Asia Pacific)
For more information on Gucci's Sydney flagship store and the Epilogue Collection, head to gucci.com. Discover Opulent Club on Apple News.