To mark the occasion of the 25th anniversary of the Lange 1, it is now being presented in an exclusive 25-watch limited edition is characterized by the interplay of silvery and blue hues on the signature, asymmetrical dial. Revamped in 2017, this model combines the satellite display with a fascinating day/night indicator.
The gradated blue tones of the moon disc nicely harmonises with the thermally blued steel hands and the colour-matched inscriptions, including the numerals of the outsize date. The new and improved Lange 1 Moon Phase was novel for the fact that its moonphase display also doubled up as a day and night indicator. Instead of a single disc with two fixed moons as is convention, the display relies on a rotating figure of 8, with each end forming one gold moon.
The "8" is superimposed on an independently revolving blue disc that represents the sky. Half the disc is in a light blue, indicating day time and the second half is dark blue for the night sky, with laser-cut stars dotting it.
The disc completes one full revolution about its own axis every 24 hours, mapping the rhythm of day and night. Against this background, the white-gold moon performs its synodic orbit in 29 days, 12 hours, 44 minutes, and 3 seconds with such precision that it takes 122.6 years before a correction by one day is needed.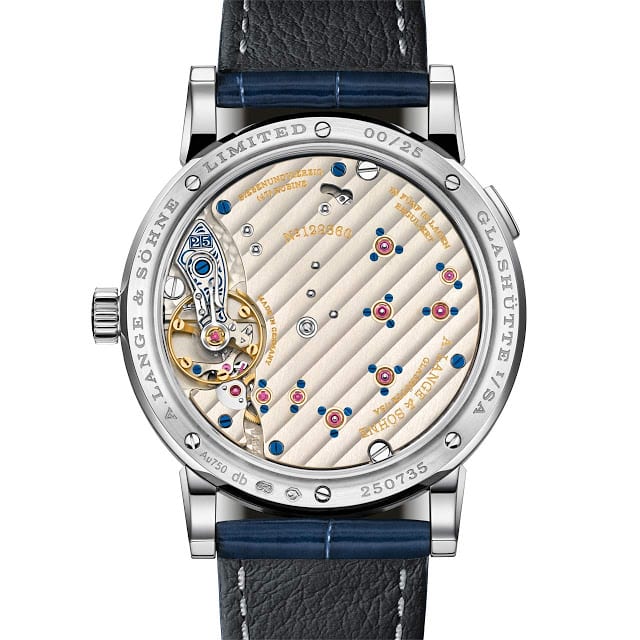 Housed in the classic and well proportioned 38.5 mm x 10.2 mm white gold case. The handwound L121.3 is based off the L121.1 movement that was introduced in 2015 with the second generation Lange 1. The 70 additional parts for the moon-phase display and the day/night indicator were integrated in the movement so compactly that the watch is only 0.4 millimetres thicker and has an unchanged diameter of 38.5 millimetres.
They include a twin mainspring barrel with a power reserve of 72 hours, a power-reserve indicator with the UP/DOWN inscription and a precisely jumping outsize date display.
Matched to a blue alligator leather strap with a solid white-gold prong buckle, the Lange 1 Moon Phase "25th Anniversary" (ref. 192.066) is priced at €43,300. It is a limited edition of 25 watches, and will be part of the 10-piece set that will be launched in October 2019. Discover Opulent Club on Apple News.