Originally launched in 2013 in red gold, white gold and platinum 950, the Legacy Machine N. 2 was then presented in a limited edition of 18 pieces in platinum with blue dial and in an 18-piece limited edition in titanium with its strikingly beautiful vivid blue greenish dial. MB&F is now introducing the Legacy Machine N. 2 (LM2) White Gold Purple, a 12-piece limited edition characterized by a colour which is pretty unconventional in watchmaking.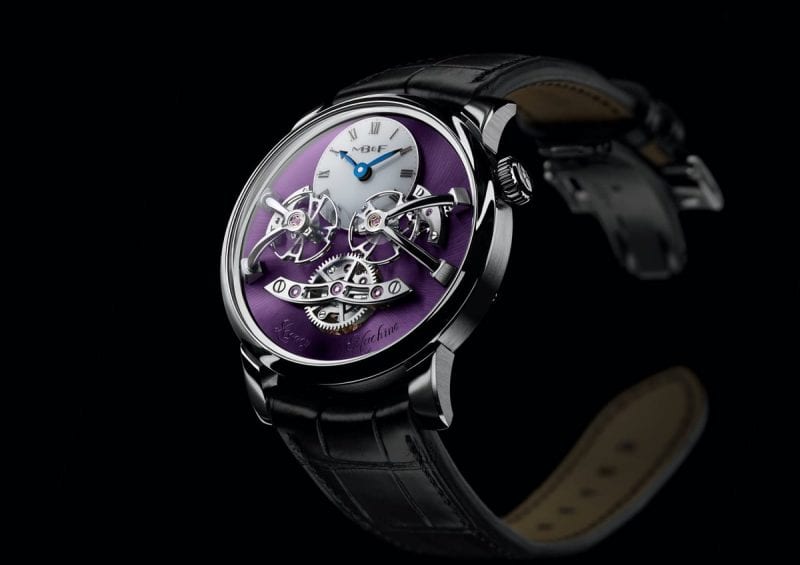 More recently purple was utilized on the limited editions of the HMX Black Badger and the Legacy Machine Perpetual. Obtained via a CVD Chemical Vapor Deposition process, many watchmakers avoid using purple because the color isn't stable, the sunray-finished dial which evenly coats the dial surface and gives it a multi-faceted colouration under different angles of light ranging from a deep violet to an almost electric shade of plasma purple. But for MB&F, this is a plus which adds appeal to the timepiece.

The new purple dial offers perfect symmetry. Top to bottom: the white stretched lacquer sub dial at 12 o'clock, with its blued gold hour and minute hands, is visually balanced by the large, raised differential at 6 o'clock. Left to right: the two flying balances and their escapements are identical mirror images, right down to the position of the stud holders pinning their balance springs.
The large planetary differential has three roles: 1. Transferring power to each of the regulators; 2. Receiving the individual timing rates from each balance; and 3. Transmitting the average rate of the two regulators to the gear train, where it finally manifests itself as the displayed time.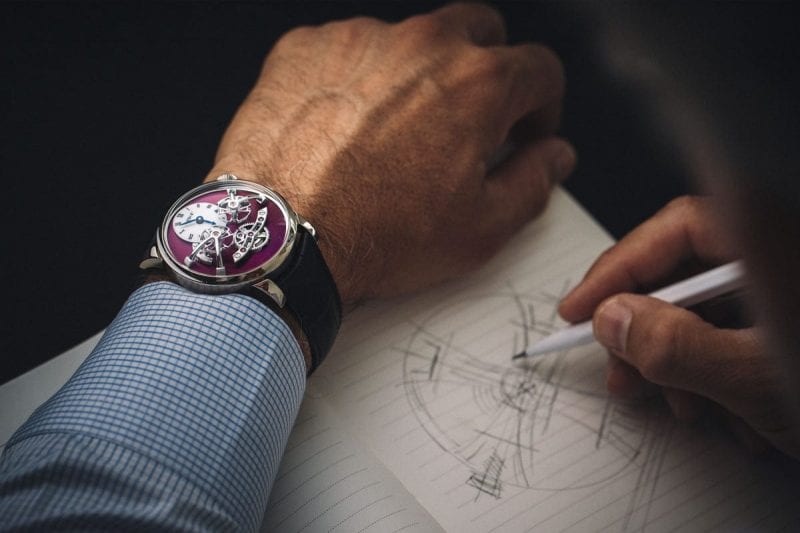 Housed in a 44 mm white gold case with a total thickness of 20 mm, the hand-wound movement of the LM2 beats at a frequency of 2.5 Hz (18,000 vibrations per hour) and offers a power reserve of 45 hours, and is comprised of 241 components and 44 jewels. The new purple dial, 18-karat white gold version of the LM2 retails for $159,000.