Furrion, a global leader of innovative products and solutions for the consumer, specialty vehicle and marine markets, today unveils the crown jewel of its concept fleet: Adonis, a 78-foot customized Numarine yacht. Created in partnership with Turkish boatbuilder Numarine, the 78ft Adonis is said to boast unprecedented innovation and technology, including a full suite of audiovisual electronics, kitchen appliances, cameras and monitoring equipment controlled by Furrion's new virtual concierge with artificial intelligence , Angel. Angel is designed to simplify control of the living space, whether in the home, a recreation vehicle or aboard a yacht, and to enhance the daily life and/or travel experience.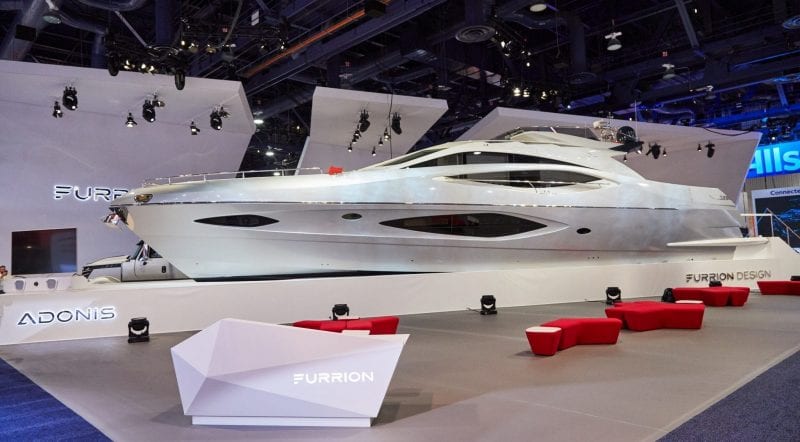 Described by the company as being "powered by a network that knows no limits and built with intelligence that responds to your every move," the voice-activated system – known as Angel – uses facial recognition technology to learn an owner's personal preferences while providing an added authentication security benefit.
Adonis is fitted with several Furrion Smart Mirrors with an interactive display found in the master cabin and throughout the yacht. Smart Mirror functions like a large tablet or touch screen and lets view updates such as weather, schedules, news and social media. Both, Smart Mirror and Angel work in the offline mode as well. The cockpit features the Furrion monitoring system that displays everything from navigation to equipment monitoring. Angel is able to constantly monitor and alert you to changes that need to be made either in navigation, perhaps due to weather, or alert you if something in engineering needs attention. Everything Angel is monitoring can be viewed and controlled through the Furrion touchpad smart remote.
This is the first time ever that a yacht has appeared at CES (International Consumer Electronics Show), and it marks an expansion into more marine concepts at the show. Adonis is the third brilliant concept design from Furrion Design.
"It is incredible to see our vision of Adonis be a reality here at CES," says Furrion co-founder and chief marketing officer, Matt Fidler. "Furrion's history is rooted in marine and now we are able to combine the best of our technology and futuristic innovation to deliver an experience unlike no other. The addition of Angel gives consumers an always-present assistant, regardless of their Internet connection."  Discover Opulent Club on Apple News.