The air taxis are coming—for real, Bell Helicopter has unveiled the full-scale design model of its Nexus air taxi at CES 2019, betrays an approach that's both entirely bought in to the idea of high-tech, electric-powered, vertically-flying, mega-multirotors summoned by smartphone app.
Bell is aiming to have the Nexus in flight over a handful of major markets by the "mid-2020s," said Scott Drennan, director of innovation at Bell. He argued that the key element about the aircraft was its "approachability," which makes it the ideal vehicle for this proposed flying taxi service.
While it may fly, make no mistake, the Nexus looks more like a car than an airplane. Bell Nexus is powered by a hybrid-electric propulsion system. It still bears the shape of a helicopter, but instead of having rotor blades at the top, it features six tilting ducted fans scattering around the body. The Nexus can seat five people, and has a gross weight capacity of 600 pounds (272 kilograms). Bell went with a hybrid-electric propulsion system, rather than an all-electric one, so the aircraft could fly further and carry more weight. In addition to providing system redundancy in the event of turbine failure, the series hybrid architecture offers an upgrade path towards eventual fuel cell and/or full-electric propulsion.
While Bell's CES 2018 display emphasized the passenger experience onboard an urban air taxi, this year the company will focus on the pilot/operator of such vehicles. An array of augmented reality Future Flight Controls (FFC) simulators—fitted in single-, dual- or tri-control configurations, the latter essentially emulating current helicopters—will help Bell gauge feedback on what could evolve as the final control configuration for the Nexus and other urban VTOL vehicles.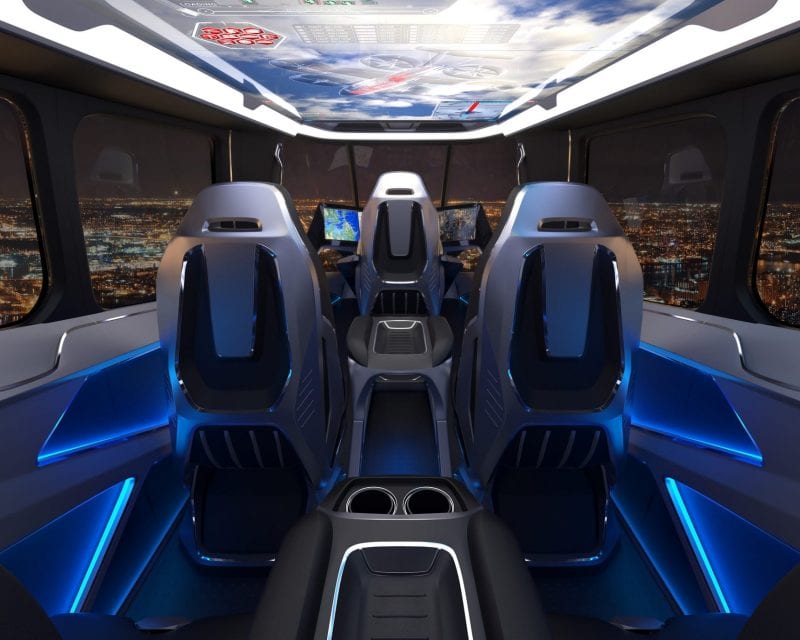 This project is a promising one with a positive outlook of materialising based on the fact that Texas-based Bell is one of Uber's shortlisted partners for its air taxi service. Uber Air is targeted to demonstrate flights in 2020 and operate commercially in Dallas and Los Angeles in 2023.  Discover Opulent Club on Apple News.