Bowmore and Aston Martin announced a partnership in 2019 to create exclusive bottlings and experiences. Black Bowmore DB5 1964 is the first release as part of this collaboration that costs $65,000 per bottle. With only 25 bottles for sale, this whisky celebrates shared values and passions.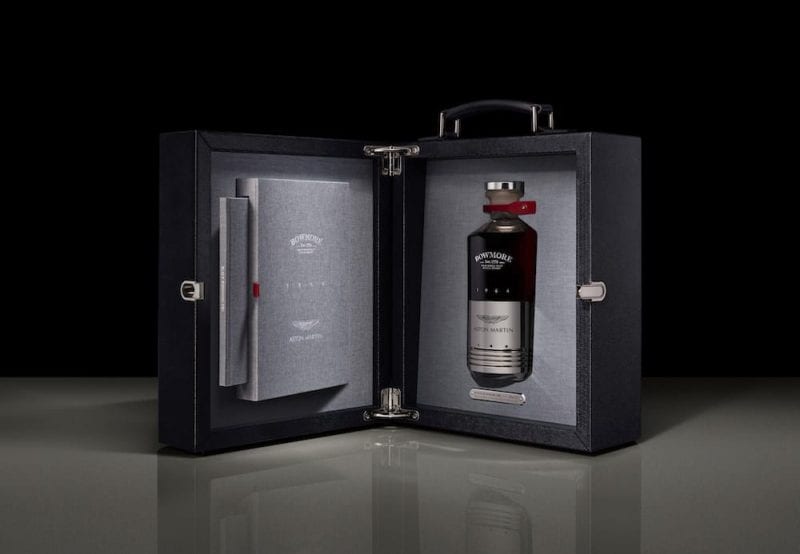 The whiskey maker describes the batch as having intense flavors of mango, passion fruit, and acacia honey mixed in with coffee and tobacco smoke.
 

1964 represents a truly defining era of evolution for both Bowmore and Aston Martin. For Bowmore, 1964 was the year a new boiler was installed, which saw the distillery enter the "modern age of distilling" as coal fires were replaced with steam as a means of heating the stills. It was the first distillation from this new boiler that produced the spirit to make Black Bowmore, which was first distilled on 5 November 1964.
For Aston Martin, this was the era of their most iconic car. Launched in 1963, the Aston Martin DB5 is considered to be 'the most famous car in the world' the sports car made its on-screen debut as the vehicle of choice for James Bond in the 1964 film Goldfinger.

The bottle of the Black Bowmore DB5 is handcrafted by Glasstorm, a bespoke contemporary glass studio, based in North East Scotland that merges into a genuine DB5 piston. Each bottle took up to one week to be complete. The bottles are presented in a handmade presentation box, which was inspired by the distillery's coastal home. Black Bowmore DB5 1964 will be available from late autumn 2020. Discover Opulent Club on Apple News.