Once again, Jacob & Co. wows us with its watchmaking prowess, cool design aesthetic and impressive high horology movements. The watch company recently signed an ongoing partnership agreement with supercar maker Bugatti to create unique timepieces to reflect the complexity and exclusivity of both brands.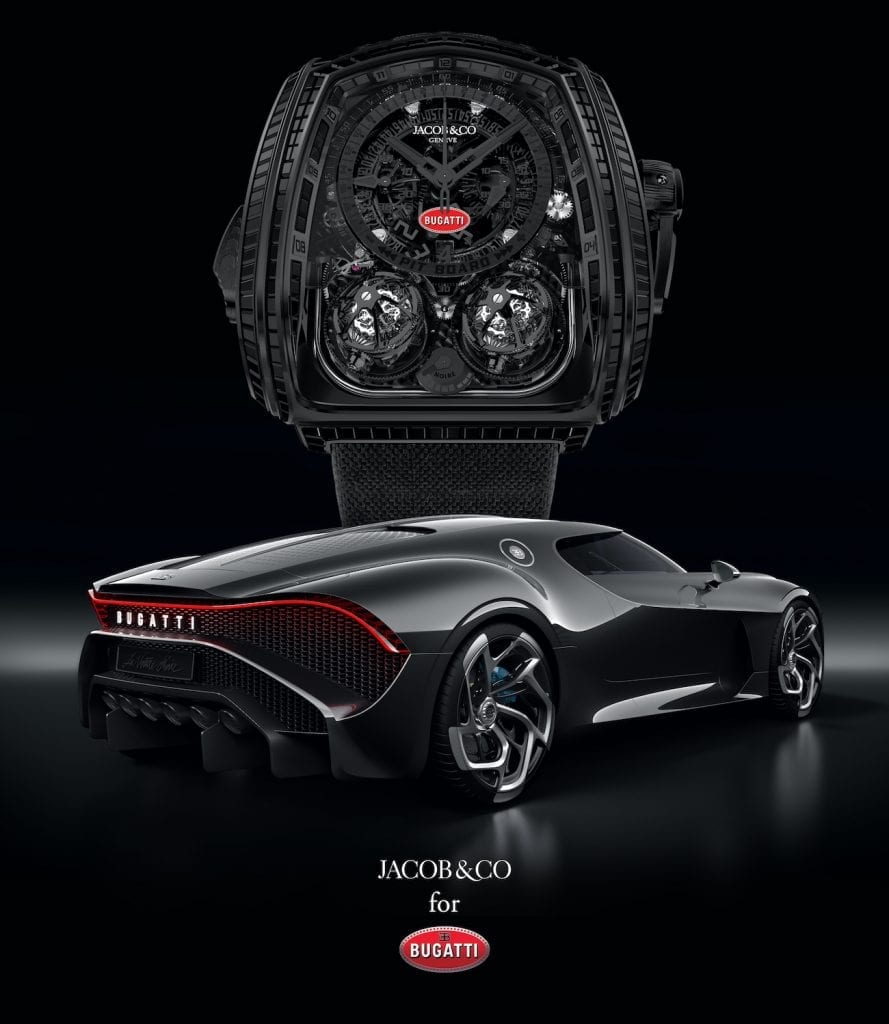 Now, we have the intricate Twin Turbo Furious Bugatti La Montre Noir in honor of the black version of the Bugatti Type 57 SC Atlantic Coupe from the 1930's that mysteriously disappeared. "La Montre Noire" isn't the first model to result from this partnership, as we've seen already the Bugatti Chiron Tourbillon and its miniature sapphire engine. Today's model is yet another story and is based on one of the most complex watches on the market.
Bugatti Type 57 SC Atlantics from the 1930s a vehicle widely considered to be a masterpiece of automotive engineering. Only four Bugatti Type 57 SC Atlantics were ever hand-built, with the fourth instance dubbed "La Voiture Noire". To this date, it has never been found, and if it were, experts put the value of it at more than $100 million. A 2019 one-off tribute to the "mystery" car was built by Bugatti last year and sold for more than 11 million Euro.
Jacob & Co's La Montre Noir comes with superb craftsmanship. Clad in all black, the massive 52 mm diameter by 17 mm thick case is crafted from 18K black gold. The angular 88-part watch case is invisibly set with 344 stones weighing nearly 23 carats.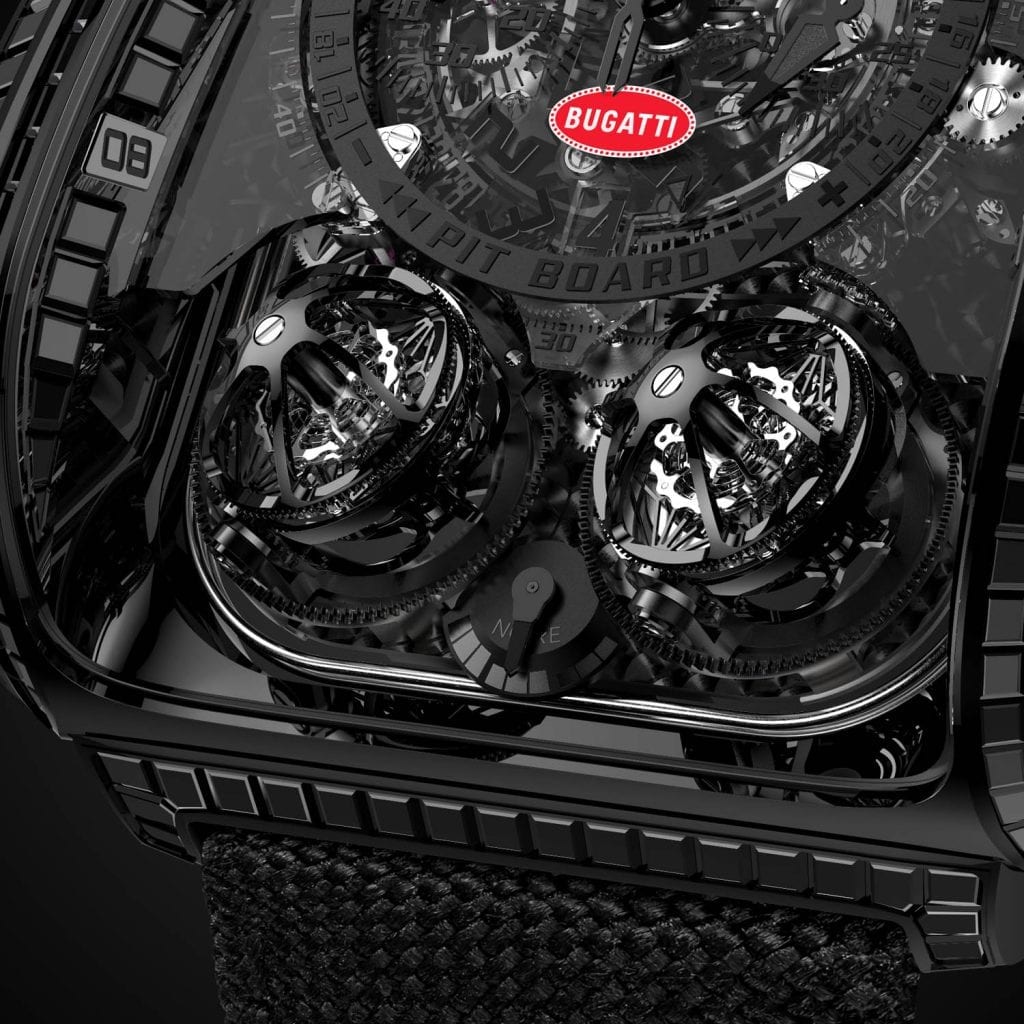 The mechanical engine of the watch visible from front and from the case back, is incredibly complicated and boasts 832 individual components – most of which have been blackened. The Jacob & Co. manually wound caliber JCFM05 drives all functions, including the aforementioned double tourbillon system as well as a decimal minute repeater, a sophisticated mono-pusher chronograph actuated by a column-wheel and vertical clutch, a 48 hours power reserve indicator, and a fully skeletonized date display.
The Twin Turbo Furious is regulated by a pair of triple-axis tourbillon regulators. Rotating on three different axes, at three different speeds (once every 24, 48 and 180 seconds), a connection between the two tourbillon carriers aims at stabilising the entire system, one compensating the other.
Uniquely, there's a function called "reference time differential". An opening in the dial at 6 o'clock indicates a reference time in minutes and seconds that can be set via the crown (position 2 – up to 5 minutes and 59 seconds). The pit board wheel then displays the difference in seconds, in comparison to the reference time when timing an event.
Finally, the bold red Bugatti logo is front and center on the one-of-a-kind watch. With the mysterious beauty of this watch, one has to wonder what other colors Jacob & Co. may eventually present.
The Jacob & Co. Twin Turbo Furious Bugatti La Montre Noire is a unique piece, come with the retail price of $1,000,000(Ref. TT800.31.AA.UA.A). Learn more at Jacob & Co. Discover Opulent Club on Apple News.