Aston Martin has opened the doors of a specialized classic car showroom in the heart of London. Situated with the Aston Martin Brand Experience Centre at No.8 Dover Street. The showroom is operated by the Aston Martin Works classic car department in London's posh Mayfair district, where the marque already has a dealership and brand store.
The Works Heritage showroom is targeted at customers interested in acquiring a heritage model or learning about restoration services available at Aston Martin Works Service in Newport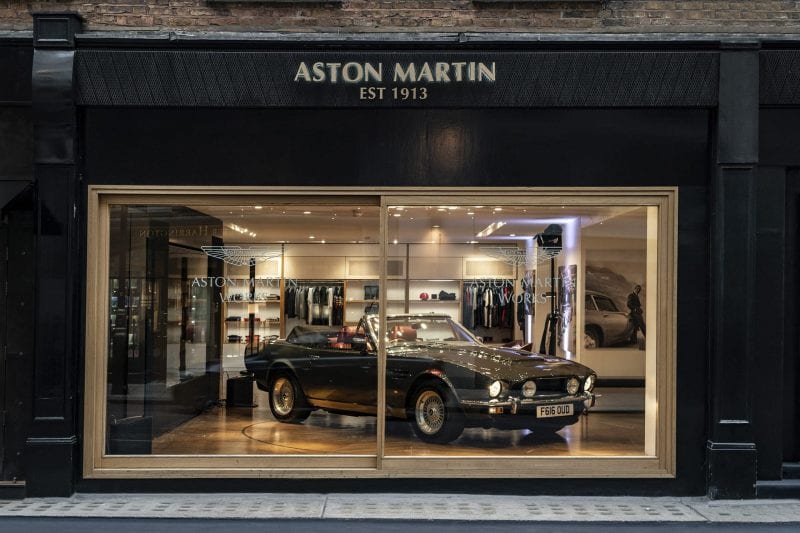 The expansion of our Heritage showroom activity into Central London enables us to engage with our customers in the location where they work and live their lifestyle. It also supports the international appeal and invigorated interest in Aston Martin Heritage cars, allowing us to deliver a personal service to customers visiting the UK. – Paul Spires, President of Aston Martin Works.

Aston Martin said demand grow for heritage cars, citing the sell-out of the DB4 GT and interest in the Goldfinger DB5. Both are produced in Newport Pagnell, at the same factory where the original cars were made. Only last month, a 1963 Aston Martin DP215 prototype race car sold for $21,455,000 at a Monterey Car Week auction. The automaker also quickly sold out its DB4 GT continuation cars in 2016 and says interest in the just-announced Goldfinger DB5 recreation cars has been strong. Modern cars will continue to be sold at Aston Martin's Mayfair dealership on Park Lane.