Moet Hennessy has joined forces with designer Virgil Abloh, the chief executive officer of the Milan-based label Off-White and the artistic director of Louis Vuitton's menswear, has designed a limited edition bottle for Moët & Chandon. Moët & Chandon c/o Virgil Abloh, a exclusive collection of custom-designed bottles of Nectar Imperial Rosé—the top-selling rosé Champagne in the U.S.
The venture, which is Abloh's first collaboration with an alcohol brand previously, Abloh has worked with lots of fashion-endemic brands, including Kith, Nike, Moncler, and Levi's, all to critical acclaim and great retail success. "Moët & Chandon c/o Virgil Abloh," features custom bottles with Abloh's trademark "Do Not Drop" lettering in an all-white design over the normally gold bottle.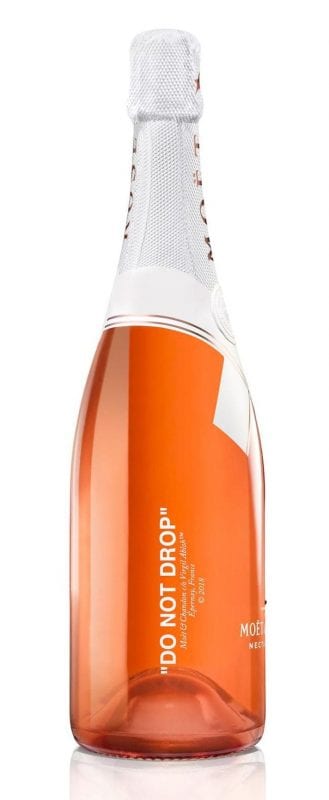 Virgil Abloh has designed two editions of Moët Nectar Impérial Rosé; a standard 750ml bottle that will be widely available and a three-liter Jeroboam, which will be exclusive to his inner circle which includes Kanye West. Both will be released on October 15 via Clos19 and select retailers.