German superyacht pioneers Abeking & Rasmussen, has delivered a new motor yacht the 68-metre Soaring. Delivering Soaring on time, Abeking & Rasmussen overcame the challenges of the global pandemic, which struck during the end phase of construction.
"About two weeks before the superyacht was to be handed over, half of Europe was engulfed into a 'lockdown' caused by the Covid-19 pandemic". According to Kleymann, "It was simultaneously an extremely challenging time and a bold demonstration of the efficiency and flexibility of Abeking & Rasmussen, even under the harshest of conditions". Jörg Kleymann, Senior Project Manager of the company's Yacht department.
A special crisis management team, an elaborate safety and hygiene concept, as well as a two-shift production approach, helped the shipyard to deliver the yacht on time.

Soaring is a bespoke superyacht built for an experienced owner with a demanding brief and amongst other things, a separate owner's deck with aft looking grand master suite. The biggest possible tender and a gym complete with a wellness centre with direct access to the water.

Soaring features 4 Double-cabins and 1 VIP Suite, as well as generous double and single crew cabins in the bow, providing accommodation for up to 18 crew members. The lower deck hosts an expansive beach club with direct access to the swim platform, covering a total of 74sqm including the adjoining wellness centre.
Bremen-based studio Focus Yacht Design, who created a truly distinctive and impressive design with a harmonious and contemporary exterior and an elegant grey-white colour scheme. Soaring's signature aesthetic feature is a striking line which stretches for the entire length of the superyacht, from the bow to the swim platform. 

 "I have experimented with this solid line, stretching the entire length of the superyacht, for years. And it all, finally, came together in Soaring". Designer Thomas Mühe.
Thomas Mühe comments on the commission and its execution: "Our goal was not to put together a selection of attractive details, but to create a coherent and harmonious whole that was to be simultaneously impressive and imposing but most of all a reflection and representation of the owner's central life themes and requests. Early on it was clear that the owner valued originality and had no interest in a yacht that could easily be mistaken for another".

The steel and aluminium superyacht has a volume of 1541 GT and is powered by two 1492kW MTU engines.  The smooth hotel operations are ensured through 383 kilowatt strong Caterpillar generators and the tanks with a diesel capacity of 180 tons in total ensure a cruising radius of 4500 nautical miles.  In addition, the superyacht fulfils the strict regulations of the IMO Trier III concept with its waste gas purification system. Schottel thrusters and Naiad Zero Speed stabilizers ensure that there are never any disturbances to the guests' enjoyment of the superyacht.
Interior work was done by Klaus Rodiek GmbH based studio Focus Yacht Design. They worked primarily with two types of wood, Amara and Tiama, natural stone and genuine Italian leather. Soaring's aft deck has a dining table for 12. The large sofa is custom-made for the superyacht as well as the ceiling-high Italian light sculpture. The guest accommodation is made up of four 20sqm rooms, consisting of three doubles and one room with twin single beds, as well as one luxurious VIP room. Each room embodies a particular theme of Nautilus, Ginkgo, Turtle and Bamboo, reflected in the bed heads and travertine inlays in the bathrooms.
Connected to the wellness centre through a lobby is the gym, equipped with a ballet barre and a refreshment bar. The upper aft deck is used exclusively by the owner and this was a part of the superyacht's concept from the very beginning, master suite can be accessed through an 11sqm private office. The minimal furnishings reflect the concept of open spaces and free spirit which has been consistent throughout this superyacht. Owner will enjoy their own private aft deck, while a library on the same deck can be completely dimmed to be used as a cinema.
Ocean Independence AG manages Soaring both operationally and for sale and chartering.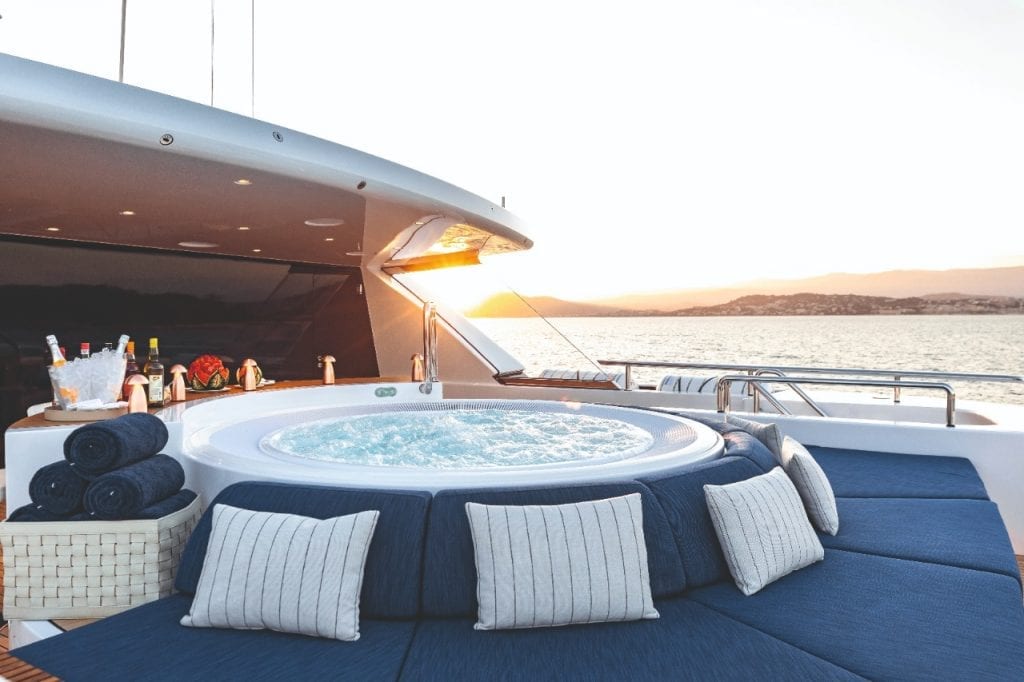 Peter Hürzeler, Managing Partner of Ocean Independence, commented: "We are happy to be able to offer a new and premium-quality vessel with Soaring. The design, the layout and, of course, the quality of this 68-metre yacht engineered by one of the most prestigious yards worldwide into a very attractive offer in this very popular size."
Discover Opulent Club on Apple News.