Dutch shipyard Oceanco has delivered its new 90-metre superyacht Y717 with its modern revolutionary exterior styling by DeBasto Design and sophisticated interior design by Nuvolari Lenard is unlike any other superyacht afloat today. Featuring a unique combination of design and technological innovation, project Shark is the first yacht in the Netherlands to be given the official Lloyd's Register Integrated Bridge System (IBS) notation and designation.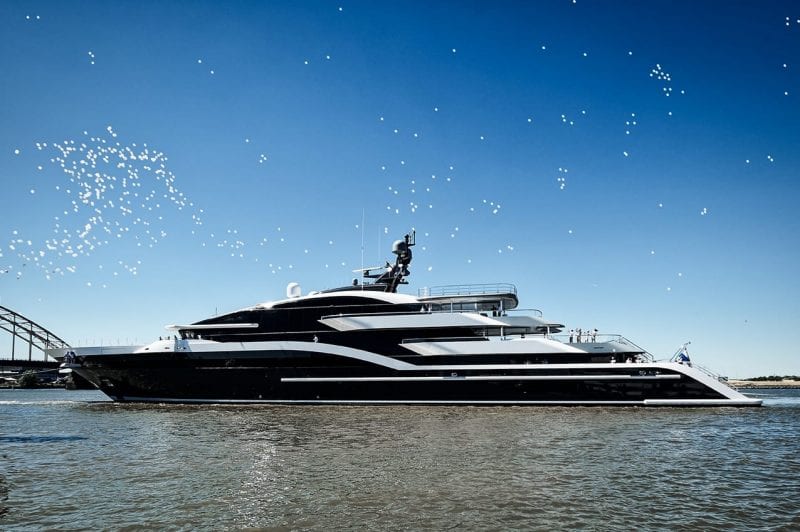 Project Shark features a superstructure completely finished in reflective glass as well as panoramic floor-to-ceiling views onboard at aft, port and starboard. Project Shark was designed to maximise direct interaction with the marine environment as well as outdoor living. The entire upper deck is dedicated to the owners and as such has been specifically designed without walkaround passages to ensure complete privacy.

"The profile has a unique sense of contrast and homogeneity between the dark glass and the white balconies, providing a constant exchange in shape and lines between the two elements," said Luiz DeBasto. "My initial drawings may have looked like a futuristic concept, yet she is now a very real yacht on account of the execution made possible by the advanced technology of the Oceanco engineering team and by the vision of her experienced owner and his team."

The interior was designed in concert with the exterior concept. Woods onboard include different hues of sycamore fiddleback, small details in tinted Brazilian carballo wood, and maple bleached grey. Other key accents include bas-reliefs; metallic surfaces and 3D cut leather panels. Project Shark is sure to play a significant role in future yachting designs of tomorrow.