RM Sotheby's announced the addition of a 1956 Ferrari 290 MM with significant motorsport pedigree ahead of The Petersen Automotive Museum Auction on 8 December. The announcement comes just months after a 1962 Ferrari 250 GTO sold for $48 million, becoming the most ever paid for a car at auction.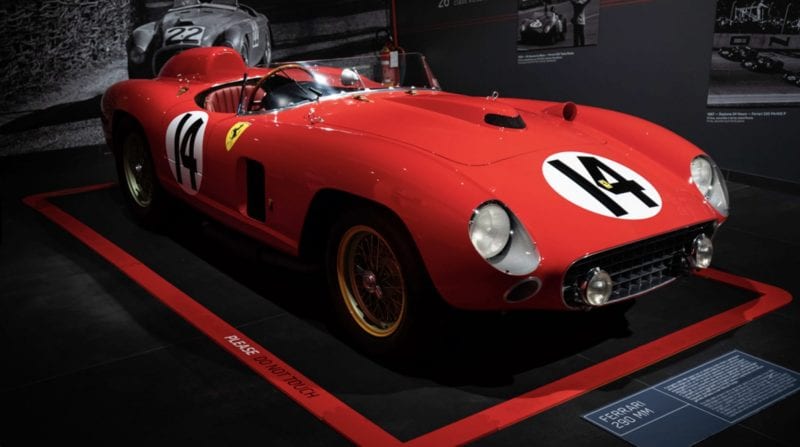 The cherry-red two-seater was raced by Scuderia Ferrari during the 1956 and 1957 seasons and piloted by an impressive roster of factory team drivers, including Juan Manuel Fangio, Phil Hill, Peter Collins, Wolfgang von Trips, and Sir Stirling Moss. The car was built at the express direction of company founder Enzo Ferrari, and it was the last of four 290 MM models built in 1956. Equipped with an all-new powertrain, composed of the Tipo 130 V-12, 3,490 cc engine, with highly developed cylinder heads, high-lift camshaft, bigger valves, twin spark plugs, 9:1 compression ratio and dry sump, coupled with the Tipo 520 transaxle, the 290 MM was the car to bring the manufacturer title back to Maranello for the third time.
"We're delighted to bring this highly significant Ferrari 290 MM to our Los Angeles auction," said Augustin Sabatié-Garat, Auction Manager, RM Sotheby's Europe. "The 290 MM is certainly one of the most important Ferraris to grace the halls of the renowned Petersen Automotive Museum and will be right at home in an auction set to present some of the most notable moments in motoring history across numerous categories. The car represents the golden age of the sports two-seater, having taken part in some of the most famous races ever held. Moreover, the sheer number of legendary drivers who have been at the helm of this car make it truly remarkable. The opportunity to acquire a proper Scuderia Ferrari works barchetta in the realm of the 290 MM, 315 S, or 335 S rarely ever comes along in such exceptional form."

The Ferrari will be joined at the auction by 40 diverse collectible cars from significant eras. Interested parties can see an updated list of entries online or call +1 310.559.4575 to speak with an RM Sotheby's car specialist.