Single malt Scotch whisky creator Gordon & MacPhail has released two stunning new additions to its 'Private Collection' range: a 64-Years-Old single malt from Glenlivet Distillery and a landmark 50-Years-Old from Caol Ila Distillery – the oldest Caol Ila single malt ever released. The Private Collection is made of rare and exclusive single malt whiskies from celebrated, little-known, or closed distilleries, all of which have been specially selected for bottling by a member of the Urquhart family that owns Gordon & MacPhail.
Gordon & MacPhail 1968 from Caol Ila Distillery was aged in a refill Sherry hogshead and has been bottled at cask strength 52.5% abv. It is described as having warming spice on the palate, followed by fruit flavours with a finish of bonfire embers and lemon zest. Only 199 decanters of this extremely rare single malt are available worldwide at an RRP of £7,500 (US$9,587).
The dark gold Gordon & MacPhail 1954 from Glenlivet Distillery carefully balances the sweetness of golden syrup, stewed fruit, and dark chocolate with spicy black peppercorn and mature oak. Matured in Cask 1412, a carefully selected refill Sherry butt, the 64-year-old malt was bottled at a cask strength of 41.0% ABV. Only 222 bottles are available globally at an RRP of £9,950 (US$12,718).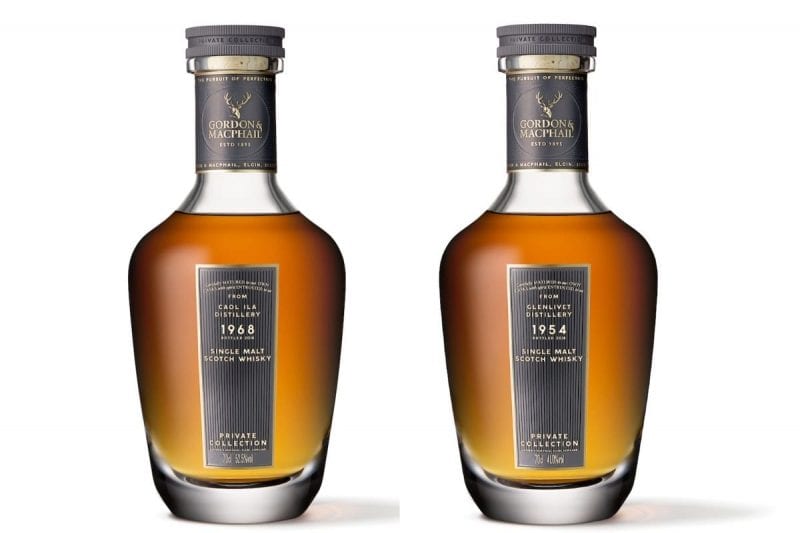 These ultra-rare single malts were selected for bottling by Stuart Urquhart, Gordon & MacPhail's Associate Director of Whisky Supply and member of the fourth generation of the Urquhart family. Beautifully presented in hand-blown crystal decanters, each whisky is encased within a handmade wooden veneer box. Discover Opulent Club on Apple News.