Michael Burke, Louis Vuitton's chairman and CEO, is zeroing in on the kind of innovation that provides a jolt in a luxury world jaded by too much "stuff".  So Louis Vuitton is reaching for a higher plane of design by invited six contemporary artists to bring their unique visions to Louis Vuitton's iconic Capucines bag. The Artycapucines Collection is created by leading international artists: Sam Falls, Urs Fischer, Nicholas Hlobo, Alex Israel, Tschabalala Self, and Jonas Wood.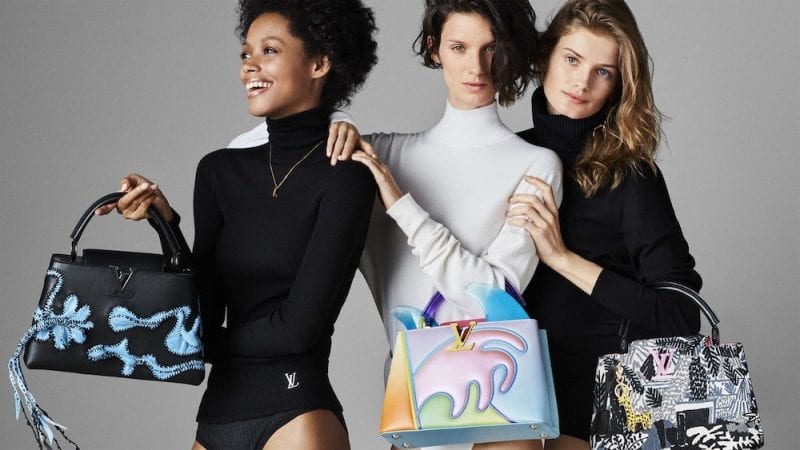 Louis Vuitton opened his first store on Rue des Capucines in Paris in 1854. Launched in 2013, the Capucines handbag that was inspired by the street has quickly become a classic. The limited-edition Artycapucines Collection includes the bags with distinctive design.
Urs Fischer's creation, which comes in an understated white version, features a hanging sculpture with the addition of six hyper-realistic, hand-painted silicone pieces of fruit and vegetables, dangling as you walk from gallery A to gallery B. The pieces decorate either the bottom or the side of the bag by way of a super thin and delicate gold-plated brass chain.
Jonas Wood based his design on one of his paintings; it is made from an intricate fusion of printed leather and hand-embroidery, "mimicking how I paint and how I draw".  The pattern is first printed onto the bag's exterior, before being embroidered with over 200,000 stitches to create a rich tactile texture. The bag is further decorated with matt pink LV logo and playful giraffe charm.
South African artist Nicholas Hlobo limited edition Artycapucines is inspired by Louis Vuitton's Monogram canvas. The artist envisioned the bag's interior decorated with a flower.  He is the only one of the six to use leather regularly in his installations, which comment on gender, ethnicity and culture in post-apartheid South Africa. Attached with hand-laced embroidery, the blue tones and contrasting texture stand out against the bag's smooth black exterior to create a beautiful, handmade hybrid object.
Alex Israel's limited edition Artycapucines is inspired by the artist's renowned California wave style.  As the waves of lustrously coloured leather glisten, two decorative, yet functional surfboard fins emerge: one has a comb attached, the other a mirror. The interior pocket reveals the artist's profile transformed into a metal zip puller.
Tschabalala Self, whose art reflects on the black female body, used techniques of patchworking and embroidery on her bag as she employs in her work. Based upon her deconstruction of the House's Monogram pattern, this Capucines PM is composed of 200 hand-cut and painted shapes, making each piece unique.
Sam Falls' limited edition Artycapucines was created using a jacquard weave, high-definition printing and precise handmade embroidery.  The Capucines PM's beautifully worked fabric is accompanied by the natural elegance of a mother-of-pearl signature and handle rings.
Each model of the ArtyCapucines collection will be distributed in a limited and numbered edition of 300 pieces at a price of 6,500 euros ($8,600.00). Discover Opulent Club on Apple News.