Porsche presents the 911 Targa 4S Heritage Design Edition, a state-of-the-art 911 with design elements from the 1950s and early 60s. With the exclusive special editions, Porsche is also establishing a new product line which represents the 'lifestyle' dimension in the automotive company's product strategy.
Historical exterior and interior design elements have been reinterpreted and combined with the latest technology in a special limited edition from Porsche Exclusive Manufaktur.  The edition is limited to 992 models worldwide, matching the internal model series number of this, the eighth-generation Porsche 911. The first thing you'll notice about the Heritage Design Edition is its racing livery-inspired paint job. While the example the brand chose to show off features a Cherry Red Metallic base, the car is also available in black, Guards Red and GT Silver Metallic.
Another highlight is the Porsche Heritage badge on the engine hood grille, which is reminiscent of the commemorative badge made for the Porsche 356 when it reached the 100,000 kilometer mark. The seal of quality from the past, with a modern twist, will adorn the rear of all four Porsche Heritage Design models. A further connection between past and present is provided by the historical Porsche Crest of 1963 found on the front luggage compartment lid, steering wheel, wheel hub covers, vehicle keys, and embossed on the head restraints and key pouch. The vehicle comes with 20/21-inch Carrera Exclusive Design wheels and the classic-look brake calipers painted in black as standard.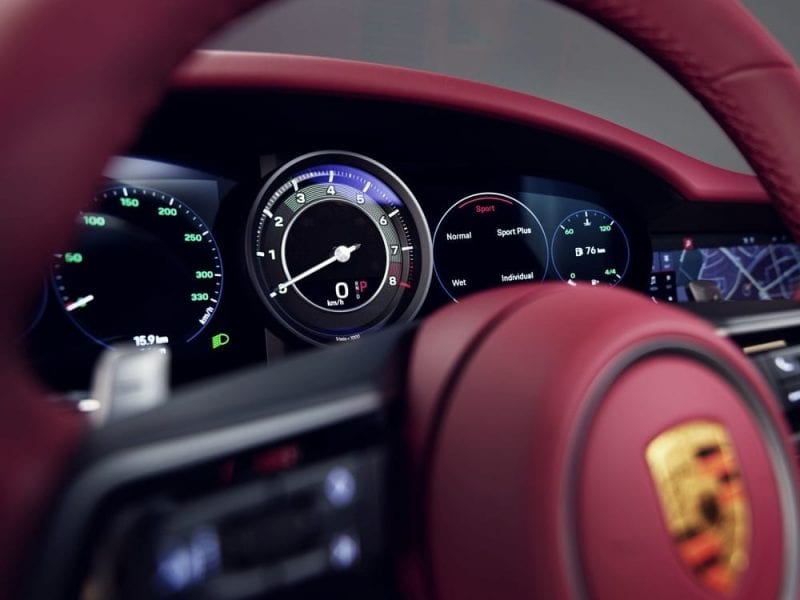 The interior also pays tribute to the past: the exclusive two-tone leather interior combines Bordeaux Red. The seats and door trim feature corduroy fabric and the 1963-style crest makes an appearance on the headrests and steering wheel. Meanwhile, the instrument panel is illuminated in green like on the 356, and the Sports Chronograph dial is the same as the one featured on the watch that accompanies each Heritage Design Edition.
The first Heritage Design model is based on the new 2021 911 Targa 4S of the 992 generation which was just introduced, and is equipped with the latest technologies for chassis, assistance systems and infotainment. It is powered by a 443 hp twin-  turbo boxer engine. Combined with the standard eight-speed dual-clutch transmission and Sport Chrono Package, the vehicle  can reach a top track speed of 188 mph and accelerates from 0 to 60 mph in 3.4 seconds. The car starts at $181,950, which is $45,000 more than the standard Targa 4S. If you miss out, though, don't worry; the automaker plans to release three more Heritage Design Editions in the future. Discover Opulent Club on Apple News.