The happiest place on Earth might also be the most glamorous. 21 Royal, the ultra-élite dining room set in a little-known sanctuary in Disneyland, offers precisely that. Guests can now reserve their private dining space at the restaurant and enjoy an extravagant seven-course meal, including a "tapestry of imaginative dishes" that are entirely unique to you for up to twelve people's if you can meet the hefty $15,000 price tag come with 1-day park-hopper ticket to the Disneyland theme parks for each guest and an exclusive opportunity to entertain your party that evening in a two-bedroom suite designed by Walt and Lillian Disney. Also included is valet parking and VIP welcome, the seven-course meal with wine pairing, an exclusive amenity, professional butler service plus tax and gratuity.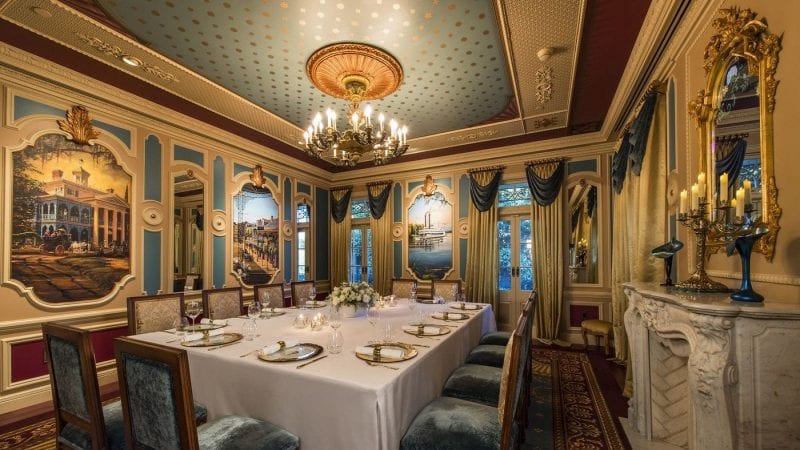 The menu for your magical night are crafted by a team of Disneyland Resort Signature Chefs and sommelier. Dishes served as part of this menu include a king crab and Osetra caviar starter, a seafood soup with Santa Barbara spot prawn, red abalone, and Kona kampachi, Wagyu pastrami and curried pheasant.
The meal concludes with dessert on 21 Royal's private balcony, where you'll be able to take in a prime view of the Rivers of America, and watch the magic of Disneyland at night from above.
The space is decorated in the elegant Empire style, which rose to popularity in 19th century New Orleans. 21 Royal is hidden away in the California park's 2,200-square foot Dream Suite, which sits at the top of a winding staircase above the Pirates of the Caribbean ride in New Orleans Square.
Originally a private residence, the destination was "once envisioned by Walt and Lillian Disney as a secluded family retreat and a luxurious oasis in which to host celebrities and dignitaries," as explained on 21 Royal's website.